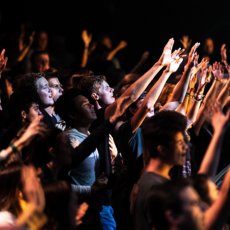 Youth worship in Protestant Contexts
The field of youth worship gatherings is explored because many churches face the challenge to build a bridge between youth cultures and the church traditions.
A Practical Theological Theory of Participation of Adolescents
Churches and youth organizations emphasize the need for young people to be able to worship in their own language, with peers, and more or less related to traditions of the church. Money, time, and energy are spent on youth worship, because of the (supposed) need and the difficulty to communicate the gospel in a way relevant to adolescents. The uncomfortable feeling in many churches is that it is difficult to incorporate youngsters in the church. The longing to understand what motivates young people in youth worship and their religious identity involved is the reason for this empirical research. Another reason is that much is written about youth and worship, but not so much in the field of academia. To the present studies, we add a new study to the phenomenon of youth worship. The relevance of this study is that both the local and the national youth worship fields are included, and that (a broad spectrum of) the Protestant Church in the Netherlands is the target group. The focus of our research is adolescents between the age 15 to 19 or 20.
Question and aim
This research intends:
to develop a consistent conceptual framework for the range of religious experiences of adolescents with regard to youth worship. Sub aims are:

to describe characteristics of Christian rituals, symbols and speech acts in youth worship in relation to the participation of adolescents;
to gain insight in the relation between local youth worship and national youth events from the perspective of adolescents;
to make recommendations for churches concerning the development of worship in which adolescents may express and deepen their faith.
to contribute to a cultural-empirical approach of liturgy, especially with regard to youth worship.
The central research questions are:
a. How do adolescents participate in youth worship gatherings and
b. how can we analyze and evaluate this theologically?
Method
The focus in this study is on what happens in a worship gathering and what meanings adolescents give to their participation in this worship. It is a qualitative research with the use of anthropological- sociological tools of empirical investigation: the field notes of participant observations, the transcribed interviews, and the data is organised by means of (digital) documents. The research is mainly ethnographic in character. It is qualitative in shape and aides in taking particularity, a particular practice, and embedded (theological) convictions into consideration.
Researchers
Ronelle Sonnenberg