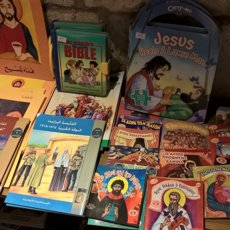 Youth and Liturgy in Lebanon
The Middle East features in the news mostly in connection with violence, religious fundamentalism and Islam. In reality, sizeable and diverse Christian communities live and have lived for a long time in this context. Today, the situation and the future of Christians in the Middle East is becoming a matter of concern for both Church leaders and academic researchers. The continuation and the future of these communities as living faith communities depends to a certain extent on their youth, i.e. the future generation.
However, there is hardly any research on young people and churches, and particular liturgies, in Eastern traditions. Participating in worship/ liturgy, pilgrimages and other liturgical-rituals is a visible and important expression in churches in the Middle East. This proposal aims to understand young people's liturgical identities. What does their participation tells about who they are and how does this participation help them to grow?  Believing that worship/ liturgies are important contexts within which people acquire and express their faith in (Eastern) churches we choose to start our exploration from the context of liturgy or worship. We would therefore like to explore the places and practices of young people in (five) different liturgical traditions in Lebanon in their particularities and similarities. The churches considered are: The Maronite Church, the Greek (Antiochian) Orthodox Church, The Syriac Orthodox Church, the Armenian Apostolic Church as well as the Lebanese Protestant Church.
Our provisional question is: In a context of war, insecurity, and minority worries, how does the participation of adolescents and young adults in public worship both in their home Church and in ecumenical contexts form them and their faith?   
Christian Youth all over the world look for connections and for inspiration. We live in a network world, and young people travel to other places for many reasons, knowledge about the (faith) back ground would help to shape the (future) church both in the Middle East and the West.
Researchers
Rima Nasrallah (Near East School of Theology - Beirut) and Ronelle Sonnenberg (Protestant Theological University – Amsterdam) 
Research period
2019-2020