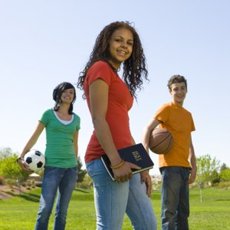 Faith in small groups
This research presupposes that small groups exist as ´meso structures´ between macro structures such as society, institutional church, economy, and micro structures such as private life and family. Especially in post-modern times, it is important to study these small groups that exist between the institution of church and the daily life of adolescents . The question arises whether it might be possible that these small groups are rooted in tradition and institution and also connected to other networks?
This research studies the behaviour of five small groups of (5-10) adolescents. These small groups are – as an object of research – the starting point of this study. Issues about faith and church are investigated from this starting point. The study aims to answer the following main research question:
Main research question
How is the practice of small groups related to the faith of adolescents and to their relationship with church; how can this practice be sociologically and theologically valued?
Background
The practice of youth ministry. The gap between the church and adolescents is evolving more and more into a gap between youth ministry and the daily life of adolescents. Youth ministry needs to analyze the quest of adolescents for meaning and community in post-modern times.
A mismatch in supplying resources by youth organizations. These organizations are producing programs, trainings and events for the (local) youth ministry practices. However, if the way adolescents organize their faith changes, youth organizations cannot continue in supplying the same resources.
The strategic question is 'is it possible to transcend the gap; is there a way across the gap?'
The need for more practical-theological research on youth ministry in post-modern Western society.
Aims of this study
To contribute to a theology of (youth) practice. The daily social life of adolescents has theological aspects. Practical theology does not stop at the borders of the institutional church. This study aims to disclose these theological aspects of small groups.
To enrich the theological discourse with results of research from other social sciences. We have much to learn from sociological concepts related to informal groups. Some relevant sociological concepts can be integrated into the theological discourse.
To find a way across the gap between (institutional) faith and adolescents. A theology of practice with integrated sociological concepts can be useful to build a new, open approach to supporting the faith of adolescents.
To give recommendations for the practice of youth ministry.
Researcher
Harmen van Wijnen